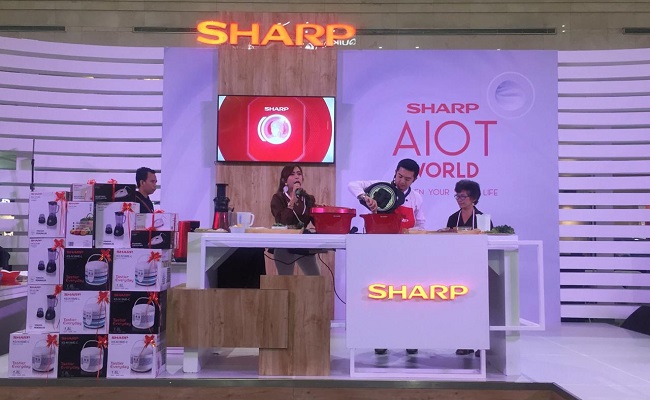 Solopos.com, JOGJA –
Raksasa teknologi asal Jepang, Sharp, memperkenalkan teknologi berbasis
artificial intelligence
di pameran
Shartp AIoT World
di Atrium Utama, Plaza Ambarrukmo, Jogja, 5-8 Maret 2020.
AIoT
adalah Artificial Intelligence dan Internet of Things
AIoT adalah teknologi pintar yang menggabungkan antara AI (Artificial Intelligence) dan IoT (Internet of Things). Gabungan keduanya memungkinkan produk Sharp diakses melalui satu aplikasi yang terhubung dengan internet dan Bluetooth atau bahkan melalui perintah suara.
Senior PR & Brand Communication Manager PT Sharp Electronics Indonesia, Pandu Setio, mengatakan saat ini AIoT masih belum terlalu populer di Indonesia lantaran kendala infrastruktur jarinagn Internet. Hal ini membuat konsumen sulit memahami cara kerja dan manfaat produk berbasis AIoT.
"Kami yakin jika dalam beberapa tahun mendatang kondisi internet lebih membaik, permintaan akan produk AIoT juga akan ikut meningkat," ujarnya.
Selama pameran, Sharp menghadirkan AIoT booth yang memamerkan produk AioT. Beberapa di antaranya seperti Sharp Android TV dengan Google Assistant yang dapat menerima perintah suara melalui remote TV.
Ada pula AC dan Air Purifier dengan AIoT yang mampu dikontrol lewat aplikasi Sharp Air App sehingga konsumen dapat mengecek suhu, melihat kelembaban udara, dan fitur lainnya dalam genggaman.
Selain Teknologi AIoT Sharp
Sharp Indonesia juga memamerkan produk-produk andalan lainnya dari berbagai kategori. Ada jajaran LED TV Sharp beragam ukuran dengan fitur-fitur canggih. Televisi berteknologi 8K pun diboyong Sharp guna memberikan pengalaman menonton TV dengan kecanggihan dan kejernihan gambar yang berbeda.
Sharp Indonesia juga memamerkan small home appliances seperti Healsio Automatic Cookware, Slow Juicer, hingga produk paling terkini yaitu Vacuum Blender.
Di kategori beauty, Sharp Indonesia juga membawa serta hair straightener dan hair dryer yang dapat melengkapi kebutuhan konsumen wanitanya.
Tak berhenti sampai di situ, Sharp Indonesia turut membawa produk di kategori bisnis yang terpampang besar dalam pameran. Adapun produk tersebut adalah Interactive White Board (IWB) dan Information Display Panel (IDP) yang cocok dimanfaatkan dalam kantor maupun bisnis apapun.
Ada pula demo memasak yang dipandu selebriti Nicky Tirta. Selain menghadirkan resep-resep sehat menggunakan produk small home appliances (SHA) yaitu Healsio Automatic Cookware dan Vacuum Blender, pengunjung yang hadir dalam pameran juga bisa terjun langsung menggunakan produk SHA dalam cooking battle.