COVID-19 definitely hurt the transport industry, but as the world seems all set to emerge from the pandemic with vaccines and treatment, security solutions for transportation come into focus again.
Several major VMS solution providers offer solutions for transportation customers. Asmag.com recently conducted a Readers' Survey to understand which brands are the most preferred by customers in the transportation vertical.
The results show that customers prefer a single brand, in particular, more than others. Although the runners-up are not too far behind, the significant lead of the top brand would be of interest to those observing the market.
Who won the transportation market race?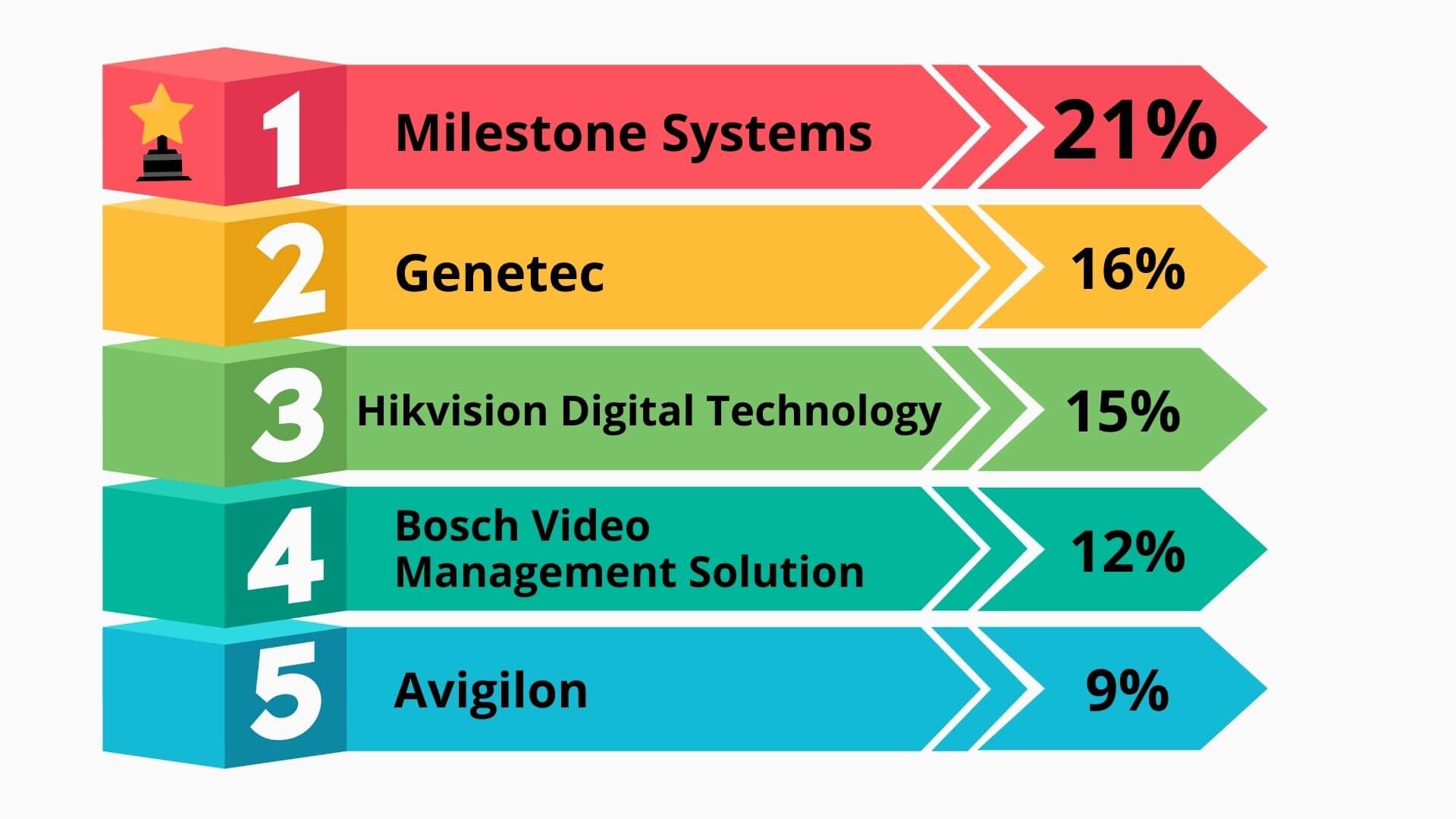 Milestone Systems topped this segment with a significant majority of 21 percent voters. Genetec and Hikvision Digital Technology followed with a 16 percent and 15 percent. Bosch Video Management Solution came up fourth with 12 percent votes and Avigilon at fifth place with 9 percent votes.
Public transport is a significant area of focus for Milestone Systems. Not surprisingly, their web page dedicated to the transport vertical talks about "regaining trust in public transport." The company lists features like elevated body temperature detection, mask detection, and crowd counting to offer a safe environment in public transport.
Transit is an important market for Genetec, too, with a focus on security, business intelligence, and operations. The comments accompanying the answers show that customers wanted a solution with several specific features like defogging and torque management. Some were also interested to point out the strengths of each of the VMSes. For instance, one respondent considers Genetec the strongest in data privacy and bandwidth management, while Avigilon for resolution and video analytics.
What are the readers saying?
Here are the major comments from respondents:
"Easy to use and stable performance."
"Forensic Search"
"Reliable quality & Cost-effectiveness"
"Defogging feature."
"Genetec - Data Privacy, Bandwidth Management. Avigilon - Resolution and Video Analytics"
"Artificial intelligence, integrated with 3rd party software."
"Graphic performance quality of live multi-channel videos."
"Scalability, mobile device camera and video streaming, and free technical support."
"LPR analysis support, speed detection."
State-of-the-art technology and stability
"Integration – Axxon, analytics – Avigilon, price – Hikvision."
"People counting and face recognition."
"Open platform with support to max brand cameras, support structure."
"Torque management."
"Access control and video surveillance on the same platform."
"Centralized monitoring."
"Some specific features for the railway, which are quite good, like calculate wagons q-ty by their number (kind of LPR), also the special thing is called weighter."
"Analytics control, mapping, people counting."
Conclusion from asmag.com
A couple of interesting points to note here. First, Milestone's lead in the survey is significant in the transport vertical. Second, there is a major interest in the use of analytics, but it is limited to security and not so much for business intelligence. There is also a serious interest in data privacy and cybersecurity among public transport customers, which is reflected in some of the comments received. Price, again, comes into play as customers want cost-efficiency.
Notably, we did not see any comments specifically related to COVID-19 regarding the need for social-distance management or mask compliance. Although health-related features are something security companies are focusing a lot on now, there seems to be limited interest from the customers.
About the respondents
Asmag.com's readers' survey is an attempt to understand the customer preference for various brands in certain verticals. This survey has responses from 486 systems integrators, distributors, consultants, and end users from across different regions. Over ten popular VMS options were given to the candidates and asked to select those they preferred to work with, along with comments on what they liked/wanted from them.
source: https://www.asmag.com/showpost/32195.aspx?utm_source=weekly_sib&utm_medium=article_2&utm_campaign=20210318w