IP cameras are at the heart of video surveillance systems. To gain a better understanding of the market, asmag.com conducted a survey asking readers to select their top three IP camera brands in three categories: lowlight, panoramic and cybersecurity. The results show an overwhelming preference for Chinese brands.
Over the years, Chinese brands have had their share of negative press, due mostly to
US allegations
that they were engaged in illegal surveillance and other controversial activities. These notwithstanding, our poll shows users across the globe still heavily prefer Chinese brands due to their high quality as well as competitive prices. This gives us reason to believe that the animosity towards Chinese brands is mostly a US thing and that, for the years to come, Chinese dominance in video surveillance will be solid and unshakable. Below we look at and analyze the results.
First category: Lowlight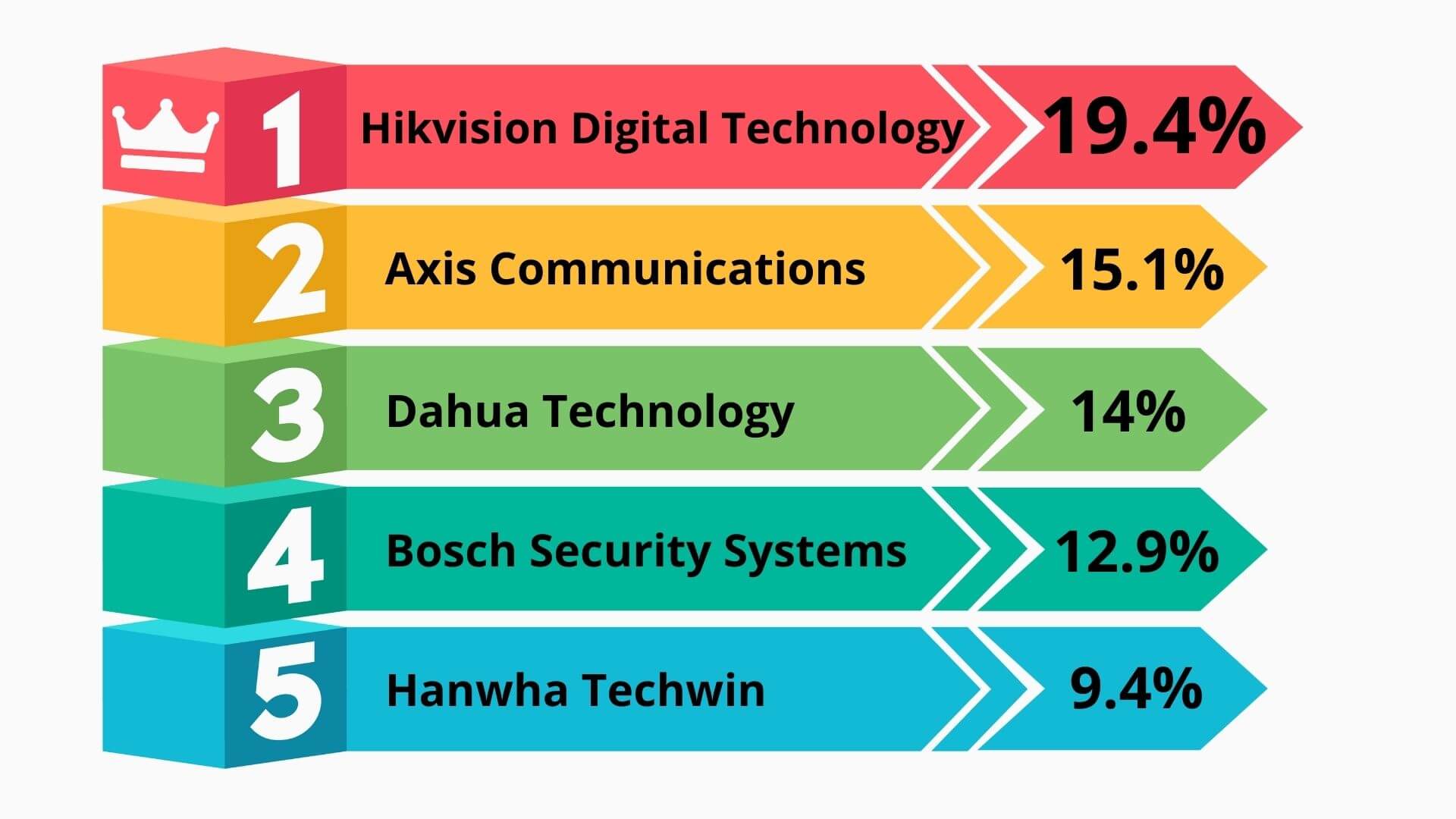 In the
lowlight
category, Hikvision Digital Technology is a clear favorite, selected by 19.43 percent of respondents. This is followed by Axis Communications (15.14 percent), Dahua Technology (14 percent), Bosch Security Systems (12.86 percent) and Hanwha Techwin (9.43 percent). Other special mentions include Tiandy, Uniview and Avigilon.
Needless to say, quality and performance define how good a lowlight camera is. Hikvision's DarkfigherX series, for example, claims some models can capture color in 0.001Lux (Note: When seeing these numbers the user is advised to find out what shutter speed was used; some vendors derive these numbers at a shutter speed of 1/8 which may render the image blurry and unusable).
Indeed, quality and performance are the main considerations when users choose their preferred lowlight brands, as shown in below comments:
"Low noise, low or 0 blurred moving details in lowlight, low or 0 hot spot from IR, good dynamic range."
"Supreme night visibility, ability to see color in dark."
"Real low light sensitivity with 200 sec shutter."
"Many top brands of surveillance cameras built today for low-light performance can deliver usable and high-quality images. With low-light technologies, IP cameras can provide more color video detail for users to more quickly identify people and objects of interest in dark areas. Exceptional video quality in low-light situations is now a reality."
​"Able to capture the object within a very low light ambient with clear results."
"Their great low light feature. I love the full colour cameras of Dahua."
Price, meanwhile, is another main selection criteria for users, as seen in below comments:
"Price regards to quality."
"Great quality at low light/right price."
"Price, quality, convenience, functionality."
"Price against quality."
And indeed the high cost-performance ratio of Chinese products is a key reason why Chinese brands are strongly favored, as the following Philippines-based reader so poignantly points out:
"Wait I forgot to tell you more important why Hikvision? Because cheap and quality."
asmag.com says:
Strong lowlight features have traditionally been a hallmark for Western brands, examples being Axis's LightFinder and Bosch's starlight technology. But it's now clear Chinese brands are catching up and finding more acceptance in the market with their high-performing and lower-cost solutions. Regardless, suppliers who can meet users' night-time surveillance needs with good performance and affordability can win out in the market.
Second category: Panoramic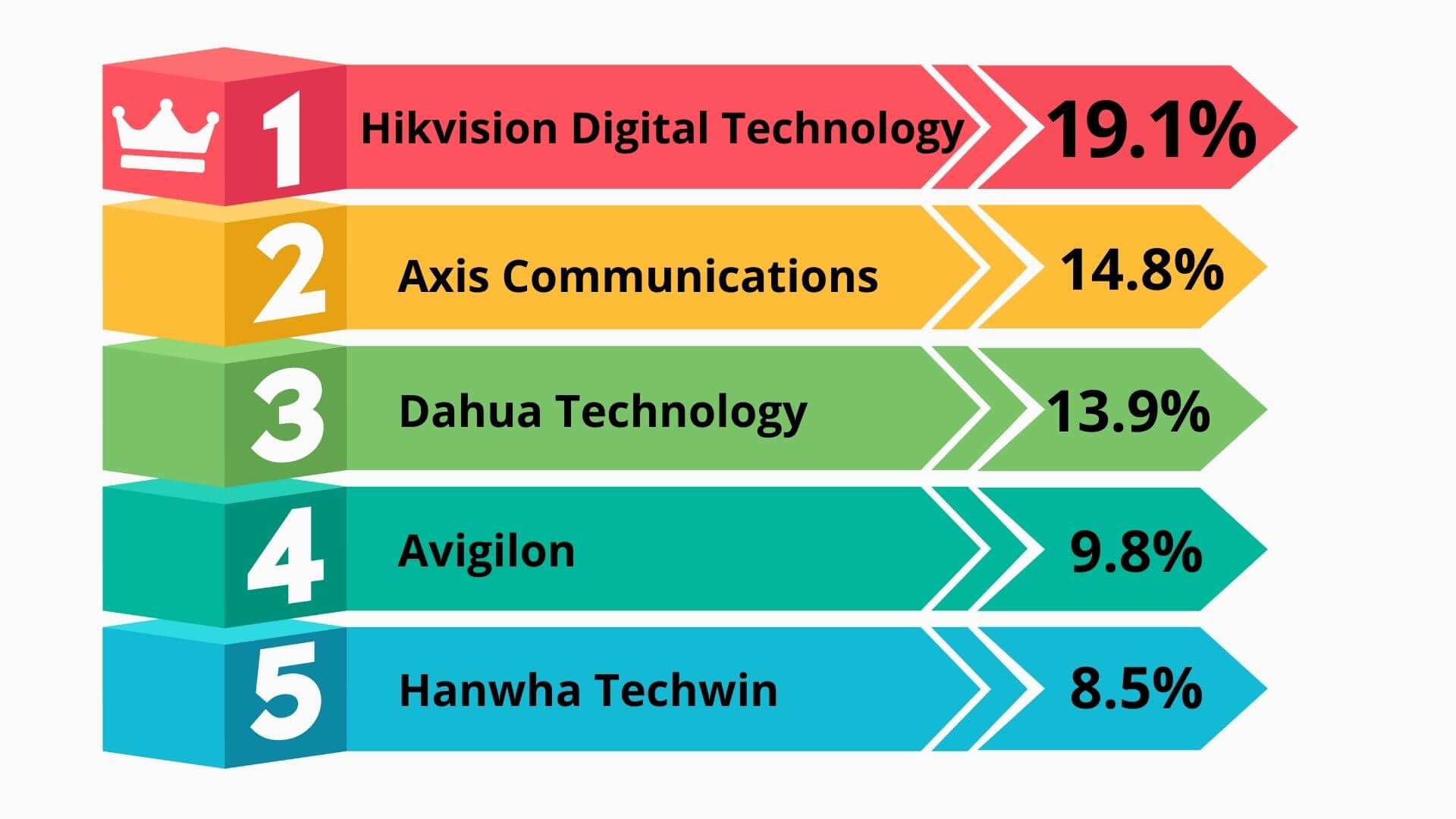 In the
panoramic
category, Hikvision again clinched the No. 1 choice spot, selected by 19.07 percent of respondents. This is followed by: Axis (14.83 percent), Dahua (13.98 percent), Avigilon (9.75 percent) and Hanwha Techwin (8.47 percent). Other special mentions include Bosch, VIVOTEK and MOBOTIX.
Panoramic views are made possible with either fisheye cameras or a multi-sensor cameras. The ability to de-warp and stitch images well, then, is a main answer when we asked what features make a brand their top choice for panoramic:
"Both software and hardware dewarp. Fast performance."
"Dewarping."
"Quality of construction, longevity of product lifecycle, ethical route to market strategy and enforced pricing policy."
"Higher megapixel, video stiching, optimized bandwidth efficiency, high WDR, IoT Security."
Aside from software, users also cite certain key factors that influence their choice. These include image quality, ease of installation and after-sale support/service:
"Nice image, easy control, features for image settings, digital PTZ quality, easy installation."
"Field of view. Field of view on the vast majority of cameras range from 90 degrees up to 140 degrees. Night vision. Most security cameras offer a form of night vision. Resolution. lowlight performance. Motion detection. Source of power. Audio. App support."
"The quality of the images and the analysis."
"Ease of use, ease of installation."
"Reliability of product technically, support and sales channel especially pricing policy to public."
"Simple installation and configuring in wide range of parameters."
Certain brands were also mentioned:
"For Axis it's the design of their P3719 multisensor camera which is very innovative and it is especially very useful for intersections. For MOBOTIX I'm very impressed with the useful analytics of its fisheye camera."
asmag.com says:
Same as lowlight, preference for panoramic cameras has shifted from established Western brands for example Arecont Vision (now AV Costar), Oncam and Avigilon to Chinese brands which also offer cost-effective fisheyes and multi-sensor cameras. Suppliers should heed user demands for good de-warping, ease of installation and image quality in panoramic solutions to gain more grounds in this market.
Third category: Cybersecurity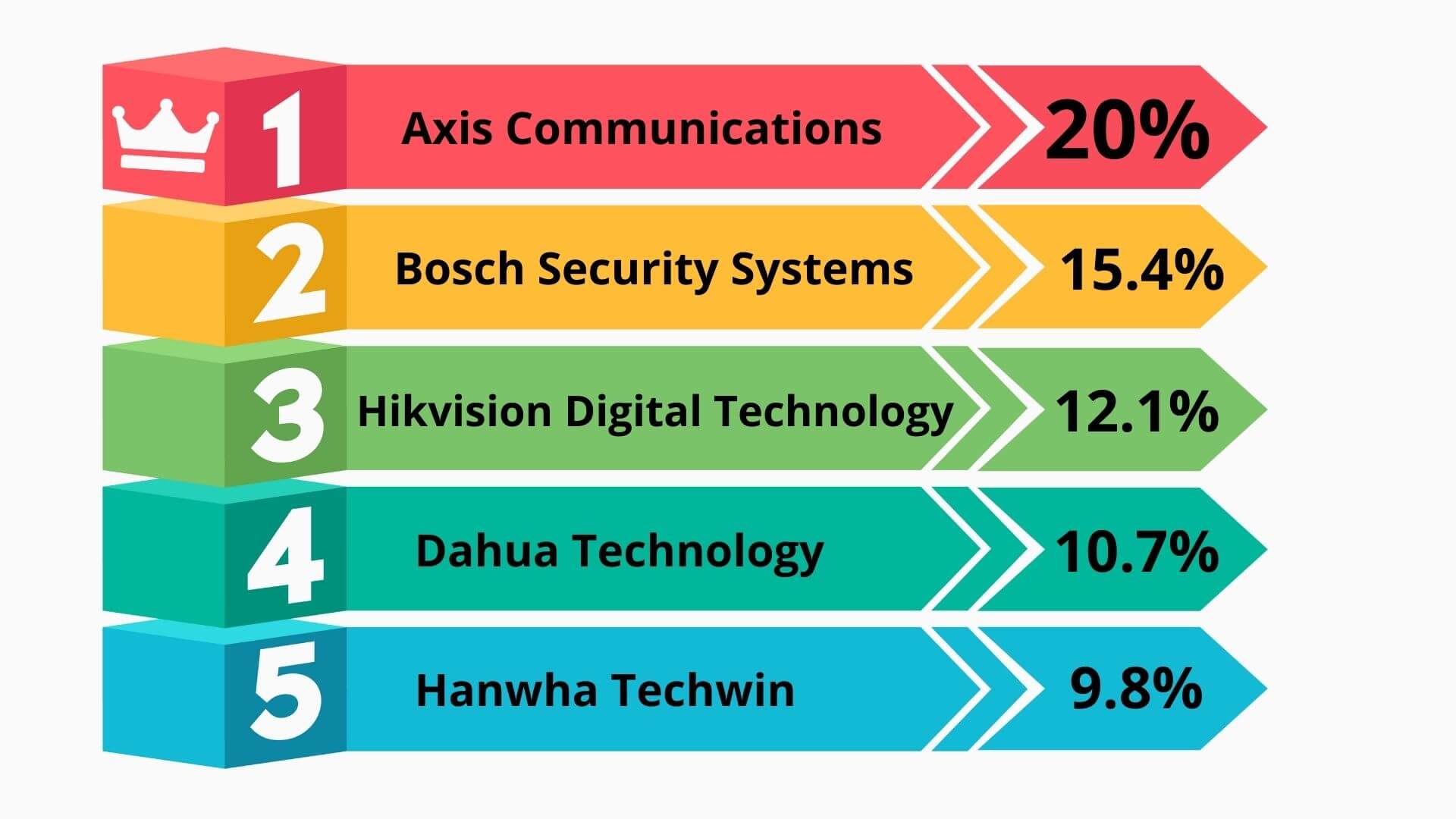 In the third category, we asked readers to choose their top brands for IP cameras with good
cybersecurity
features. The top five are Axis (20 percent), Bosch (15.35 percent), Hikvision (12.09 percent), Dahua (10.7 percent) and Hanwha Techwin (9.77 percent). Other special mentions include Avigilon, Pelco and MOBOTIX.
Obviously Western brands outperform Chinese ones in this category and have earned the trust of users, as the following comment points out:
"Axis confirms their level of security by providing many materials, and maintains policy/culture to handle any issue about a vulnerability, sending updates and notices etc. MOBOTIX is the only one that not only talked about cybersecurity but also has third-party certification for their cybersecurity level, and over 14 years I have 0 personal experience/example/cases with their products and cybersecurity. They are the best."
Asked what features make a brand their top choice, readers commented as follows:
"Integration with Trend Micro to prevent cyberattacks"
"IOT security, 3rd party verified solution."
"Encryption."
"Forced password settings and cybersecurity partnerships."
"Frequent firmware updates with security patches, and cyber security guides provided to customers."
"Good encryption"
"Strong data protection."
asmag.com says:
Unsurprisingly, Western brands rank in the top as their security features are well known. Bosch in particular is one of the earliest to adopt TBM modules in their cameras to store encryption keys. What caught our attention is the clinching of top positions by Chinese brands, whose alleged lax cybersecurity features and intentional leaving of backdoors in their devices were what got them blacklisted in the first place, especially in the U.S. The survey results clearly indicate readers believe otherwise.
Other brand preferences
In the survey we did ask readers to fill out their preferred brands that were not included in the list we gave them. A top mention was Tiandy, a video surveillance solutions provider based in Tianjin, China whose Starlight technology claims to capture moving objects in almost totally dark scenes with illumination as low as 0.0004 lux. The other notable mentions include Milesight and TVT, both Chinese companies strong in panoramic. Milesight model claims 180-degree field of view and zoom in with 4K high resolution. TVT model offers four 4MP video modules to stitch one 16MP (5520x2400), 180-degree panoramic view stream.
Who are the respondents
In total, we received 486 valid responses in this survey. They came from a wide gambit of channel players including systems integrators, distributors, consultants and end users. Vertically-speaking, the top industries the respondents work in are government, commercial buildings, manufacturing, smart/safe city, retail and transportation.
SOURCE: https://www.asmag.com/showpost/32185.aspx?utm_source=weekly_sib&utm_medium=article_1&utm_campaign=20210318w