Smartwatch dari HONOR. (Foto: Dok. HONOR)
Fimela.com, Jakarta Smartwatch saat ini sudah menjadi aksesori yang melengkapi penampilan semua orang sehingga terlihat lebih menawan. Salah satu brand smartwatch yang bisa menjadi pilihanmu adalah dari Honor. Setelah sukses merilis HONOR Band 5, kini HONOR Indonesia menawarkan perangkat smartwatch terbaru yang telah dikenalkan secara global.
Perangkat smartwatch itu ialah HONOR Magic Watch 2 varian 46mm Flax Brown dan Magic Watch 2 42mm Agate Black. Peluncuran ini diadakan pada tanggal 21 Januari 2020 di Celebrity Fitness FX Sudirman. HONOR juga mengungkapkan strategi IOT (Internet of Things) di Indonesia yang disebut "1+8+N". Selain itu, HONOR juga mengumumkan berbagai produk baru yang sebentar lagi akan diluncurkan seperti, HONOR Band 5 Sport, HONOR TWS Earphone, dan HONOR Magic Book.
"Pada strategi 1+8+N HONOR, smartphone akan menjadi pusat penghubung 8 jenis perangkat lain seperti, TV, speaker, kacamata, wearables, smart device di mobil, earphone atau headphone, serta laptop dan tablet. Ekosistem ini akan terhubung ke N, yaitu smart office, smart home, serta perangkat fitnes dan hiburan dari rekan-rekan," jelas Mr. Owen Ou President of HONOR Asia Pacific.
Smartwatch ini memiliki beragam manfaat untuk kesehatan, di antaranya adalah terdapat pelacak detak jantung, kualitas tidur dan tingkat stres. Disamping itu juga ada fitur pendukung 15 jenis olahraga baik in-door maupun out-door seperti, running, cycling, hiking, swimming, elliptical, triathlon, dan olahraga lainnya yang dilengkapi fitur notifikasi.
Saat berolahraga menggunakan smartwatch ini, kamu dapat melihat berbagai data seperti berapa kalori yang terbakar, kecepatan, Vo2Max, efek Aerobik atau Anaerobik, dan lainnya. Ada juga 13 Paket Lari dengan Voiceover Coach, di mana smartwatch ini akan mengeluarkan suara pelatih untuk memberikan instruksi saat sedang berlari.
Tidak hanya itu, HONOR Magic Watch 2 juga memiliki built-in speaker dan mic untuk memutar musik yang disimpan pada jam serta menerima dan membuat panggilan. Smartwatch ini juga tahan air hingga kedalaman 50 meter.
Kolaborasi dengan Celebrity Fitness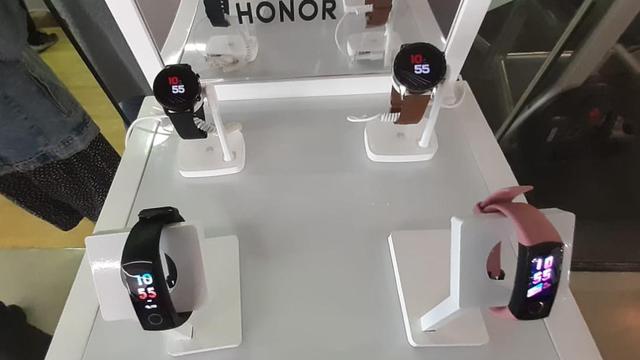 Kali ini, HONOR Indonesia menggandeng Celebrity Fitness untuk berkolaborasi dengan produk wearablesnya. HONOR Indonesia memilih Celebrity Fitness karena Celebrity Fitness merupakan pusat jaringan kebugaran terbesar di Indonesia yang menjadi pilihan banyak pencinta olahraga yang berusia muda dan fashionable sesuai dengan sasaran target HONOR Indonesia untuk penjualan Magic Watch 2 ini.
"Dengan sinergi yang harmonis, kami sangat senang bekerjasama dengan HONOR Magic Watch 2 yang sangat cocok untuk kehidupan aktif, sporty, dan fashionable. Untuk itu, kami mengintegrasi kelas kardio signature favorit seperti kelas Core Motion, Saltar, dan Peloton untuk menunjang pengalaman oalhraga para member dengan perhitungan kalori dan detak jantung setelah berlatih. Dengan ini, member bisa memonitor progres dan dapat memenuhi kebutuhan mereka," ujar Feni Soemitra, Head of Marketing Celebrity Fitness Indonesia.
Khusus ditanggal 22 Januari, HONOR Magic Watch 2 varian 46mm Flax Brown dapat dibeli di HONOR Official Shop Shopee dengan harga Rp2.399.000. Selain di hari itu, harga kembali menjadi normal yaitu sebesar Rp2.599.000. Sedangkan untuk HONOR Magic Watch 2 varian 42mm sedang ada promo pre-order mulai tanggal 21-27 Januari di Official Shop Shopee dengan voucher Rp300.000.