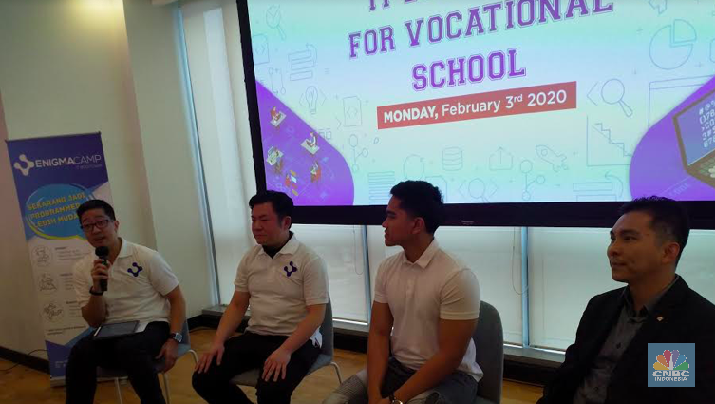 Foto: Arif B (CNBC Indonesia)
Jakarta, CNBC Indonesia - Putra Presiden Joko Widodo (Jokowi) Kaesang Pengarep mengatakan Indonesia sangat membutuhkan tenaga ahli di bidang IT atau programmer untuk mendukung Industri 4.0.
Kaesang yang merupakan founder PT Harapan Bangsa Kita (HEBAT) mencontohkan kalau berjualan pisang saja butuh tenaga programmer.
"Jual pisang saja itu butuh coding. Dulu kita apa apa jual manual. Programmer bikin program yang bisa bantu penjualan pisang. Dari situ kan berarti butuh programmer," ujar Kaesang kepada awak media di kawasan Sudirman, Jakarta Selatan, (3/2/2020).
HEBAT saat ini sudah membawahi beberapa bisnis kuliner yakni SANG PISANG, Markobar, Ternakopi, Yang Ayam dan Enigma.
Foto: Arif B (CNBC Indonesia)
Lebih lanjut, ia mengatakan salah satu lini usaha HEBAT, Enigma bekerja sama dengan Sinar Mas mengadakan kelas programming bagi lulusan SMA dan SMK yang disebut Enigma IT Boothcamp, untuk menjalani pelatihan sepanjang dua bulan.
Setelah lulus dari pelatihan, para lulusan akan mendapatkan kesempatan kerja di Sinar Mas Energy & Infrastructure. Dari 1582 pendaftar, hanya 18 orang yang terpilih mengikuti pelatihan di Enigma
"Enigma sendiri kita harus ke daerah untuk cari talenta yang baru. Harus cari 100 juta orang untuk ambil satu juta orang," kata Kaesang.
"Kita sekarang hanya bisa mencetak 100 pertiga bulan mungkin nanti bisa 100 ribu pertiga bulan. Itu lagi kita godok agar bisa mencetak tenaga ahli it lebih banyak," tambahnya.
Dalam kesempatan yang sama, Chief Officer and Developmnet Officer Sinar Mas Mining, Mochtar Suhadi mengatakan para lulusan dijamin akan mendapatkan pekerjaan di Sinar Mas Mining.
Di masa depan Mochtar mengatakan Industri 4.0 berkaitan dengan Internet of Thing (IoT) yang berarti alat-alat industri akan bergerak di alat otonom robotik.
Mochtar mengatakan programmer berperan penting untuk memberikan deretan kode bagi kecerdasan buatan (AI) agar mampu bekerja secara otonom.
"Dalam masa depan dunia akan dijalankan mesin tapi, kita berjalan di software. Jadi itu programmer penting. Di Sinar Mas Mining kelihatannya banyak alat berat tapi ke depan alat ini butuh piranti lunak untuk menggerakkannya," ujar Mochtar.